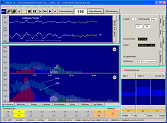 (See larger image)
In particular, the Neurofeedback Software was created to have the following properties:

a client data management and a functionality to save the clients data and session results in client specific folders

an opportunity to modify training parameters 'on-the-fly' while training
real time monitoring of training relevant values to optimize the design while training

the most possible usability and a user guidance with ease

the opportunity to do assessments with sQEEG-Analysis


Professionals and home users can use the eBioo® software with ease. Experienced users will find additional special functions and properties in eBioo®, such as:



training on up to 4 channels

a multi language software

(currently English and German)
a numerical session data report to trace session results over weeks, months or even years

training designs can be saved, reloaded and exchanged with other users
a quick and easy way to create training designs by a mouse click using standard training functions such as Amplitude or Coherence and more

to modify and optimize a design "on-the-fly" while training

easy use of tabbed screens and clients session folders

automatic filter and session thresholds adjustments

individual MIDI feedback sound for the session and for up to 16 filters and usability of freeware feedback files (WAVE, AVI, MPEG, WMV) and music CDs
Alpha-Theta Training, Alpha Synchrony and Alpha Peak Frequency Training

a real time trainer screen with an additional video feedback screen for the client

trend evaluation of training filter values

a spectrum chart with statistical evaluations

an extended set of sophisticated filter and display functions
- e.g. coherence as real time spectrum chart

the opportunity to analyze and optimize your training strategy and results using the graphical chart of statistical evaluations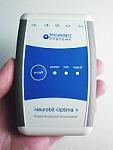 4 Channel Unit

see:
www.neurobitsystems.com





Training Functions: The following standard training functions are available in eBioo:

Amplitude, Coherence, Power, relative Amplitude, Band Amplitude, Asymmetry, Peak Frequency, Phase Synchrony, relative Asymmetry, Phase Difference, and more ...

Training Designs can be configured using these standard training functions.

Although it is quite easy to configure a training design in eBioo using these standard training functions,
there are some Built-In training designs provided, such as:



- C3/C4 Beta/SMR - Training
- F3/F4 Delta/HiBeta inhibit
- Theta/Beta - Ratio inhibit
- Delta inhibit

- O1/O2 Alpha-Amplitude Training
- F3/F4 Alpha-Asymmetry inhibit
- Pz Alpha/Theta - Training
- Alpha-Synchrony Training



The user can define more individual training designs using ..


max. 16 Training Filters together with

18 Training Functions, individually combined (Amplitude with Coherence e. g.)

Reward Ratio definition with Threshold Auto Scaling

with Range Auto Scaling (uV-Amplitude combined with %-Coherence e. g.)

and single Channel Selection



All these training designs can be modified before or while using them and stored for frequently later usage.
The training functions are available as display function in the spectrum screen as well.
Every training parameter can be modified by a mouse click 'on-the-fly' while training.

Several different standard training functions can be combined and used simultaneously in one training design ! (like in a Z-Score-Training mode), although different training functions have a different range or scope. The eBioo software is taking care of that. All standard training functions can be depicted as frequency spectrum ! (e.g. Coherence on a frequency axis in high resolution) Hot-Spots can be detected easily and taken as target training this way.

In many Neurofeedback software products that are available on the market, training concepts have to be designed on a design form or mathematical functions have to be entered into a "Wizard". The effort to figure out a concept, design and test a new client specific design exceeds often one working hour. Furthermore these designs are static and can hardly be changed during the training session.

To configure a comparable training design in eBioo requires often not more than 1 or 2 minutes of time.

To configure a training design, in eBioo simply the following has to be done: Selection of the data channels, selection of training functions and selection of the corresponding frequency ranges. Several different trainings functions and different frequency ranges can of cause be combined in the same training design and session and can be optimized during the ongoing training session. The high resolution spectrum screen gives helpful hints to optimize the parameters.


You can download the eBioo STARTER Kit Software at the Download Page.


  
   to download the eBioo STARTER Kit Software now




   See also: eBioo Data Sheet or eBioo User Manual


The eBioo Software is available as 2 and as 4 channel version. The reward ratio can be defined by the user and the reward threshold is self-adjusting. The program is available in English and German.
For a feedback evaluation, one single training function or even several different functions, such as relative amplitude and coherence can easily be configured and trained simultaneously even for different frequency ranges. Training designs can be saved, reloaded and exchanged with other users.
The spectrum of a selected training function is displayed in high resolution. That allows to fine tune the training strategy and parameters while training.